Social Media Posting Strategy
Jeremy blogged today regarding Social Media Posting Strategy.  He said we should post at social media daily or weekly.  No more than 2 posts a day (10 posts a week from Monday to Friday). If you posted too much then you will be punished by the Social Networks as a spammer.
You might want to create a posting schedule.  For example, when do you want to post on Facebook, Linkedin, Twitter, Pinterest, Google+ and set up a timetable.  You don't have to post on the same network every day.  Focus on the quality of your post rather than quantity.
The goal of your posting is to build an audience for your business.  You don't have to convert every one of them into paying customers.  Also don't put all your efforts and time into postings, it should at the most take up 20% of your work time.
Underneath is a table he suggested, what sort of content will works on a particular social network.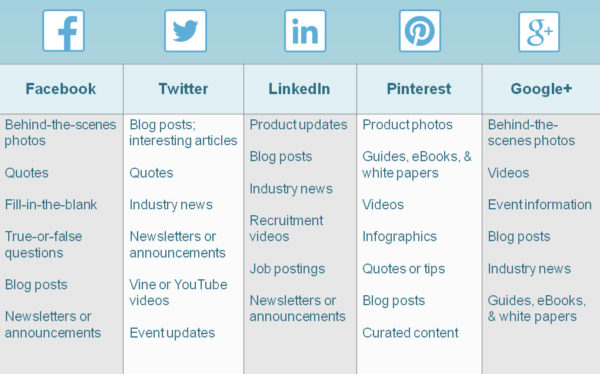 You can test what are the time of day that your posting works best and also if it will work better on the weekend or during weekdays.  It depends on the demographics of your audience and which countries they are in.
In doing so, you can fine tune your social media posting strategy.  The main idea is to start with one network first and includes others as you slowly build up your network.
The most important aspect is you need to be consistent.  It takes times to make it work and success doesn't come overnight.
Comment
An excellent post and have all the right ideas.  When you start building your website, you might not get the first page ranking immediately.  As you start doing this social network posting.  Google will give you a better ranking for you are getting links from the social networks.  It is one of the main ingredients for better SEO.
When you are consistent with your work, you will get the result you want slowly.  Your website will rise to the first page. I suggest you start doing this slowly when you have 10 pages of content.